Basic Information
All thin-bloods get a Predator Type and the Discipline related. You cannot however ever level them up. This is homebrew to give them a slight edge against the much stronger kindred in the server. Those who take Discipline Affinity do not get the PT discipline dot, but are instead able to level the discipline they choose with the merit. 
Branded By The Camarilla
Below is an example of how the crescent blood red moon brand looks, originally designed by Ulla. Thin-bloods know they must reveal the brand and leave it visible when in the presence of the court or other kindred establishments. It must be placed on a visible body part such as the face, arms, hands or neck.
Should a character be branded in play, they are given the flaw associated. If they are currently not previously maxed out with 3 Merits and Flaws, they are also given Camarilla Contact (Vane).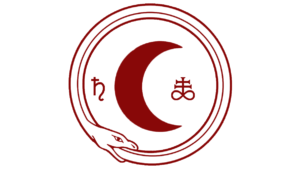 Discipline Affinity
If you take Discipline Affinity, you need to take a Discipline that is from your character's sire's bloodline. This discipline is increased as out of clan. Please remember that these thin-bloods do not get the PT discipline dot. They instead start with a level 1 of their chosen discipline and are able to level it up. 
Clan Curse
Because the Thin-bloods don't Frenzy normally, and the Banu Haqim Bane requires the vampire to Frenzy, you need to pair this Clan Curse with the Bestial Temper Flaw, just like the Gangrel and Brujah Clan Curses.
Thin-bloods Bane Severity is 0 unless they have the Clan Curse, if they have that, their Bane Severity is still 1.
Blush Of Life
Even without the Lifelike Merit, thin-bloods are always counted as having Blush of Life active. 
Day Drinker
Day Drinkers must sleep for 8 hours per day. Upon waking from their 8 hours of sleep, a waking Rouse is required to animate their body. References to "no roll to wake up" refer to the Humanity roll to wake up and act during the day that applies to all Kindred. As long as a Day Drinker has slept at least 8 hours, they do not need to make that roll. If they need to wake up in the midst of that 8 hours, the normal Humanity roll would apply. When it's being used within ST guided scenes (This may include some ask scenes), this may be altered by the ST depending on the situation to require a wake up roll, for example in cases of haven intrusions.
All posts during daywalking must be done first thing after reset within the server, if you post a night wake up you cannot later post a daytime expedition. Until it is posted in either the respective channel where it happened with the tag daytime it cannot be referenced by other players either. Please do the respective rolls needed as well. It is prohibited to attack or target other players during daywalking because they can't fight back and would become very one-sided. If they have Bestial Temper they need to roll for the frenzy check. 
Other Advantages
For advantages, please consider how a thin-blood would have these things. They are the underdogs, they are the 'clan' least liked and least respected by the mass majority of the vampiric world.
You should also keep their exclusive merits and flaws into consideration, for example, thin-bloods cannot take a Mawla at CC as they instead have the merit Camarilla Contact or Anarch Comrades.
Loresheets are in the same vein as most are written for full-bloods and loresheets like Circulatory System would kill them before they even made it to CC. No, they cannot start with the Little Black Book. No full-blooded clan would accept them as a descendent either.
Our server has a set Camarilla Contact that is optional. Vane, the clan rep can be used as the Camarilla Contact assuming they've been in the city prior to starting the RP. 
Resonance And TB
Thin-bloods do not naturally have Disciplines, instead, they get them from the resonance of blood. When feeding if the character receives at least fleeting they may pick a correlating Discipline. If you roll Intense on the level of resonance you gain 2 dots worth. Upon the next feeding or Hunger 5 it is lost. Note : Those with Discipline Affinity cannot temporarily boost their chosen discipline using this method. Instead, if they find a matching resonance they can boost their chosen discipline with an exp expenditure for a permanent increase, as other vampires would.